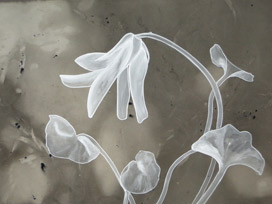 Waiting for Mr Banks is an exhibition/installation of contemporary botanical artworks relating to Banks' Florilegium.
The Allport Library and Museum of Fine Arts is fortunate to hold Banks' Florilegium, consisting of 743 copperplate engravings. It is one of only 100 sets in the world.
As a collection, the engravings were only printed for the first time in the 1980s. They depict the plants gathered by Joseph Banks and Daniel Solander while they accompanied Cook on the Endeavour during the first voyage around the world 1768-1771.
In consultation with the Hobart City Council botanist and staff at the University Herbarium, Chantale Delrue has been researching the Australian plants in this collection.
The exhibition is an installation of works consisting of botanical drawings, paintings and books inspired by these plants.