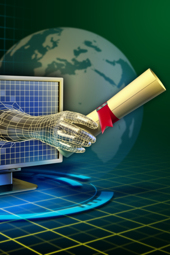 This is an online live-streamed event. This panel discussion, moderated by freelance science journalist Rod Taylor, will be an opportunity for students, educators, lecturers and distance learners to hear about the opportunities and challenges of Massive Open Online Courses (MOOCs).
MOOCs are a growing phenomenon in the higher education sector, opening doors to students who might not have had the means to pursue tertiary-level education. Now anyone, anywhere, can have access to the world's greatest minds and the opportunity to study any subject at their own pace. MOOCs can help deliver a taste of on-campus offerings to future students who aspire to study science, technology, engineering and mathematics (STEM) through 'taster' foundation courses without having to pay expensive tuition fees. Increasingly, Australian universities are rethinking the delivery of their educational programs by making the foray into MOOCs to complement existing face-to-face courses. Though MOOCs are still in their experimental phase, they are emerging as a powerful contender for the future of higher education.
Expect plenty of healthy debate from our accomplished educators and science communicators, featuring:
Professor Brian Schmidt AC – Nobel Laureate and Distinguished Professor of Astrophysics at ANU,
Dr Paul Francis – prize-winning educator, science communicator and astrophysics researcher,
Professor Ian Chubb AC – Australia's Chief Scientist and former Vice-Chancellor at ANU,
Dr Iain Hay – Assistant Professor of Education in the Faculty of Education, Science, Technology and Mathematics at the University of Canberra and
Professor Marnie Hughes-Warrington – Deputy Vice-Chancellor at ANU.
Sign in HERE.