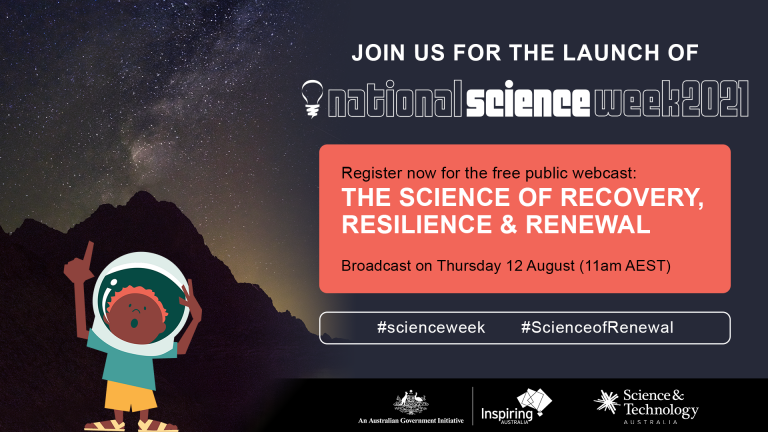 Join as Canberra officially launches National Science Week and enjoy a special 'Science of Recovery, Resilience & Renewal' forum. (Keep an eye out for the Tassie part of the launch video!)
Following the official launch of National Science Week, stay online for a very special panel event discussing the path forward as the nation navigates its way out of the challenges of bushfires, the ongoing pandemic, a changing climate and extreme weather events.
Panel members:
Dr Virginia Marshall – Inaugural Indigenous Postdoctoral Fellow, RegNet & Fenner Schools, Australian National University
Professor Sharon Lewin – Director, The Peter Doherty Institute for Infection and Immunity
Dr Ruth Vine – Australia's Deputy Chief Medical Officer for Mental Health
Dr Harry Al-Wassiti – Research Fellow, Drug Delivery Disposition and Dynamics, Monash Institute of Pharmaceutical Sciences
Sally-Ann Williams – Executive Chief Officer of Cicada Innovations
Chris LeBlanc – 3M Australia Managing Director
Moderated by Misha Schubert – CEO of Science & Technology Australia
This is a free public event presented to you by Science & Technology Australia.
Stream the event direct on YouTube from 11am Thursday 12 August.