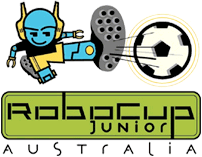 Introduction to Robotics & RoboCupJunior
Short workshop for teachers and prospective mentors of ANY experience level!
Join Brian Thomas (Tommo) – a long-time expert who has been involved with RoboCupJunior since Australian competitions began back in 2000. He has helped countless students and trained many teachers along the way – this is a fun opportunity to get involved in mentoring robotics teams and entering in RoboCup Junior!

Introductory workshop (10:00am-12:30pm) – suitable for those new to robotics and/or Lego Mindstorms EV3 robots
Advanced workshop (1:30-4:00pm) – for those looking to enter students into RoboCupJunior (suitable for K-12 students), with a focus on the 'Soccer' and 'On-Stage' competitions

Here are the details:
Saturday 27 May – 10am-12:30pm (Intro workshop); 1:30-4:00pm (Advanced workshop)
Held at Rose Bay High School, Kaoota Rd, Lindisfarne
Please bring your Lego Mindstorms EV3 robot – limited robots available to borrow, please ask when registering
$30 per person ($25 if you bring your own EV3 robot)

Register via this link  – For more information contact Bob Elliott, email to rcelliott@yahoo.com or phone 0432 280 450

These short workshops will give you the skills to get your students involved in RoboCupJunior – the biggest robotics competition in Tasmania! Suitable for students from kinder up to grade 12 – this is a great opportunity to get students involved in a team project, where they will work to design, build, test and program a Lego robot to enter into the Tasmanian RoboCupJunior competition (held on Saturday 19 August at UTAS Launceston campus).
We hope to see you there!