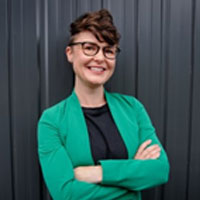 Dr Shasta Henry is the previous Royal Society of Tasmania Student Councillor and science communicator for Melbourne-based think-tank, Future Crunch.
Shasta will give us a future perspective that will explore the Adaptability Quotient which is the trait that makes humans better than robots. AQ is the measure of how skilled individuals are in making an intentional change in a rapidly evolving environment. According to the Harvard Business Review, it is the new competitive advantage.
The lecture will be followed by a two-course meal including a vegetarian option and a 'welcome drink' , that is included in the ticket price. Drinks will also be available for purchase from the bar.
Please register by Thursday 1st June 2023