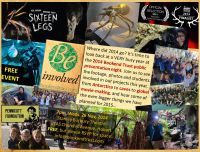 It's time to look back at a VERY busy year at the 2014 Bookend Trust public presentation night.
Join the Trust to see the footage, photos and students involved in our projects this year, from Antarctica to caves to global movie-making, and hear some of the even bigger things they have planned for 2015.
Run by University alumni, the Bookend Trust has had another extraordinary year working with Tasmanian students.
This year has included: the mounting of a major public exhibition that is now sending several students to Antarctica; a project that was selected as one of only seven international natural history projects to be presented to global media experts in Europe; a short film in collaboration with international best-selling author Neil Gaiman that had a dual hemisphere global premiere at the Canadian Banff Mountain Film Festival and the Australian BOFA Film Festival; a prestigious Gold Award from the Australian Cinematographers Society; and funding from the Australian Department of Education to roll this work out across the nation. Come along and find out more.
FREE, but RSVP for space: info@bookendtrust.com