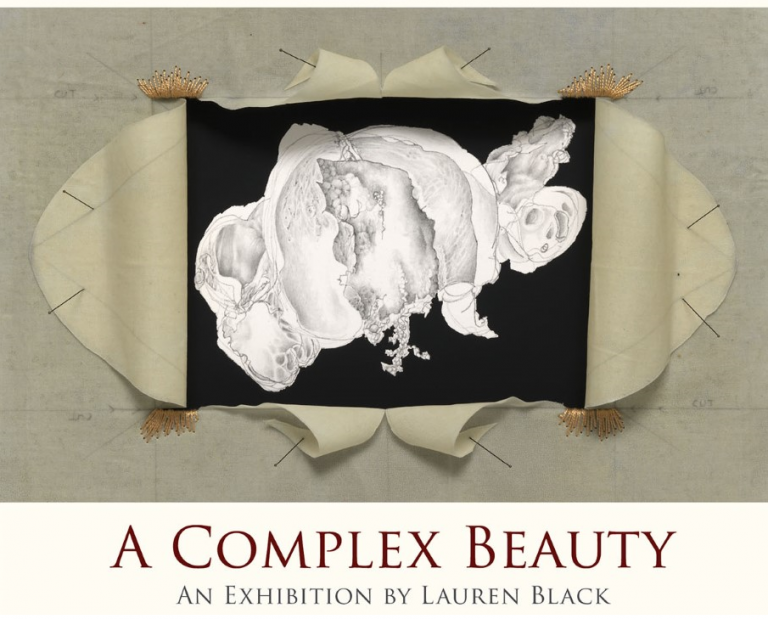 PLEASE NOTE THAT THE ALLPORT LIBRARY AND MUSEUM OF FINE ARTS HAS NOW BEEN CLOSED DUE TO CORONAVIRUS.
A Complex Beauty is an artistic engagement with human anatomical specimens. It explores the complexities of disease, dissection, the unknown body and anatomical theatre.
Artist Talks with Lauren Black: 
Saturday 14 March, 11 am and Tuesday 19 May, 1 pm.
https://www.eventbrite.com.au/o/allport-library-and-museum-of-fine-arts-8036281933
_____________________________________________________________
The exhibition is the outcome of an arts residency that Lauren undertook at the Harry Brookes Allen Museum of Anatomy and Pathology at The University of Melbourne, with its fascinating collection of over 12,000 human specimens.
In the exhibition Lauren Black lifts the skin to reveal an intimate, internal world that is rarely seen outside of the museum or medical practice. In her hands the dissected specimens transform into vibrant and engaging material with a human past and a ghostly afterlife.
The fine detail and artful skill of her beautiful artworks draw heavily on history and identity. They invite slow and reflective looking and are anatomically insightful in the way that they explore the fine line between life, death and identity.
Lauren's work is exhibited with 2 anatomical drawings by Edward Swarbreck Hall and an early illustrated volume on dissection by Alexander Maclise. This is the first time that these items have been on display.
A Complex Beauty exhibition was first exhibited at The Art Gallery of Ballarat in 2017.