Twelve early career researchers and up-and-coming science communicators have been selected to compete in the FameLab Australia 2023 Final in Perth on 21 September 2023. Representing universities and research institutions across Australia, the researchers work across a wide field of science, ranging from astrometallurgy to genomics.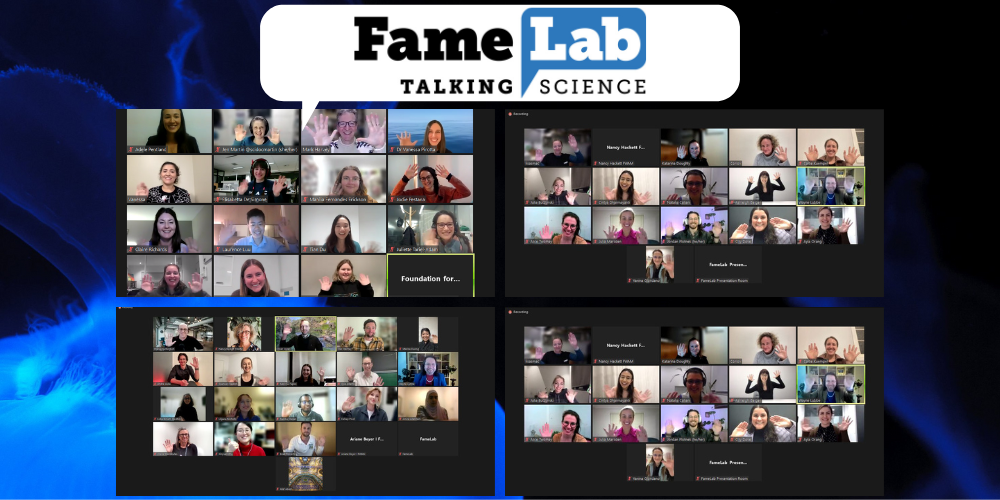 This year, 76 applications for FameLab Australia were received, with 54 people progressing to the semi-final stage. In a series of four regional semi-finals held online from 19 to 22 June, twelve FameLab finalists were selected to progress to the Australian FameLab Final 2023. The semi-finals were judged by experts from six Australian States, and the panels of judges were comprised of accomplished scientists, science communication experts, science journalists and presenters, and awarded science speakers.
New South Wales Semi-Final
Winner: Jodie Pestana
Runners-Up: Olivia Carroll, Tian Du
Victoria Semi-Final
Winner: Matthew Shaw
Runners-Up: Ryan Hickmott, Hannah Morgan
South Australia, Queensland & Tasmania Semi-Final
Winner: Olivia Dove
Runners-Up: Cintya Dharmatyanti, Ashleigh Geiger
Western Australia Semi-Final
Winner: Kelsey Pool
Runners-Up: Caerwen Beaton, Melissa Papini
The contestants work across a variety of research fields and represent universities and research institutions from across the country.
Tasmanian finalist, Olivia Dove is a marine ecologist at the University of Tasmania.
Wayne Lubbe, the Foundation for the WA Museum's FameLab Project Manager, stated "Having watched all four semi-finals, I was thoroughly impressed by the calibre of all contestants – it was really quite difficult for the judges to select the finalists. Not only were the semi-finalists' research topics fascinating to listen to, and their presentations excellent, but I could also see all the learnings they had taken on board from the science communication training delivered by Comm-it Science Communication."
He added, "It was fantastic to have such a large number of extraordinary judges from across Australia volunteer their time to judge the semi-finals – so a big thank you to Coralie Bishop, Katarina Doughty, Dr Mark Harvey, Dr Shane Huntington OAM, Prof. Oliver Jones, Dr Lisa Kirkendale, Dr Lila Landowski, Dr Paola Magni, Assoc. Prof Jen Martin, Adele Pentland, Dr Vanessa Pirotta, Dr Tatiana Soares da Costa, Adj. Assoc. Prof. Corioli Souter and Joel Werner."
All finalists will receive further masterclass training and will travel to Perth in September for an immersive 1.5-day science communication workshop hosted by Forrest Research Foundation, before competing at the FameLab Australia Final on 21 September 2023. The Final will be held live on stage at WA Museum Boola Bardip's Hackett Hall and will also be live-streamed. Tickets to the Final will go on sale to the public in August.
The Australian FameLab winner will receive the opportunity to represent Australia in the international FameLab final in November 2023.
FameLab is the world's leading public-facing science communication competition and training program, created by Cheltenham Festivals (UK). Since 2007, the competition has gone global in over 40 countries, with more than 40,000 scientists participating to date. FameLab is recognised as being a powerful means to identifying and nurturing new voices in science, with previous alumni embarking on high-profile careers in science communication and the media.
The Foundation for the Western Australian Museum is the producer and country host organisation of FameLab Australia. The focus of FameLab Australia is to promote excellence in science communication for early career STEM researchers in universities and industry. The competition is open to early career STEM researchers currently completing postgraduate studies or within five years of completing their postgraduate degrees.
FameLab Australia is supported by partners and donors The McCusker Foundation, Curtin University, Murdoch University, the West Australian Museum, the Western Australian Government through the Department of Jobs, Tourism, Science and Innovation, Community Broadcasting Foundation, Forrest Research Foundation and Comm-it Science Communication.

About the Foundation for the WA Museum
The Foundation for the WA Museum aims to increase the cultural, scientific, educational and social impact of the Western Australian Museum and help secure its long-term financial sustainability. The Foundation does this by growing the funds under management in its Discovery Endowment Fund; obtaining direct funding support for specific WA Museum projects; and setting up a program of sustainable, regular grant giving that supports the strategic priorities of the WA Museum. The Foundation funding assists in supporting ground-breaking scientific research and discovery, securing major touring exhibitions, and acquiring new items for the Western Australian State Collection. The Foundation for the Western Australian Museum also is the producer of the science communication competition FameLab Australia and its junior version, FameLab Academy (currently run with secondary schools in Western Australia).
For more information, visit https://www.fwam.com.au/ or call (08) 6552 7474