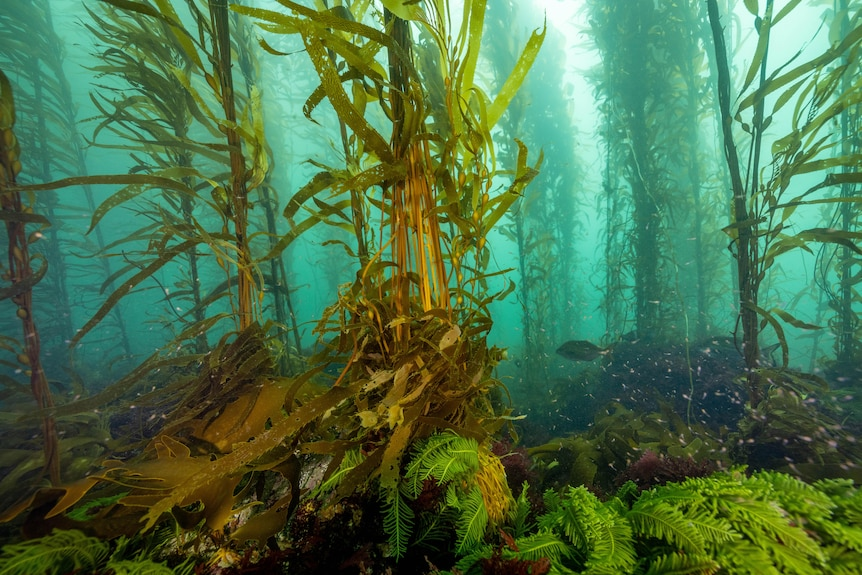 The majority of shallow-water reef species living around Australia's coastlines have declined in number over the last 10 years, and scientists predict extinctions will follow.
In what appears to be a clear signature of climate change, population declines are disproportionately impacting cool-water species. On the flip-side, some warmer-water species have expanded their range.
According to the results of the "most comprehensive assessment of marine species population trends to date", published today in Nature, as many as 138 more shallow-water reef species can now qualify for endangered and critically endangered listing after suffering significant population declines in the last decade.
The populations of more than a quarter of all species in the study declined by 30 per cent or more — a rate that could qualify them for threatened listing on the International Union for Conservation of Nature (IUCN) Red List.
The study looked at over 1,000 species Australia-wide from 1,636 sites. The observations were supplied by more than 100 citizen scientists — trained volunteer divers — under the Reef Life Survey project, which study lead author Graham Edgar from the University of Tasmania helped set up.
In Tasmania, the waters have warmed by around 1.5 degrees Celsius over the past 60 to 70 years. This gradual warming effect is starting to push species to their limits. Where animals and plants can migrate south, they are doing so. But cooler-climate species are running into what are called "climate traps" — geophysical barriers stopping them from migrating any further.
More than 30 per cent of invertebrates living in the cool, shallow waters of southern Australia are deemed to be at high risk of extinction. Unlike in tropical waters, the majority of Australia's southern marine flora and fauna is endemic. 70 per cent of species in Tasmanian waters occur only in Australia, compared to 3 per cent of tropical species.
Read more about the study and which species are most in danger here at the ABC.